Maths club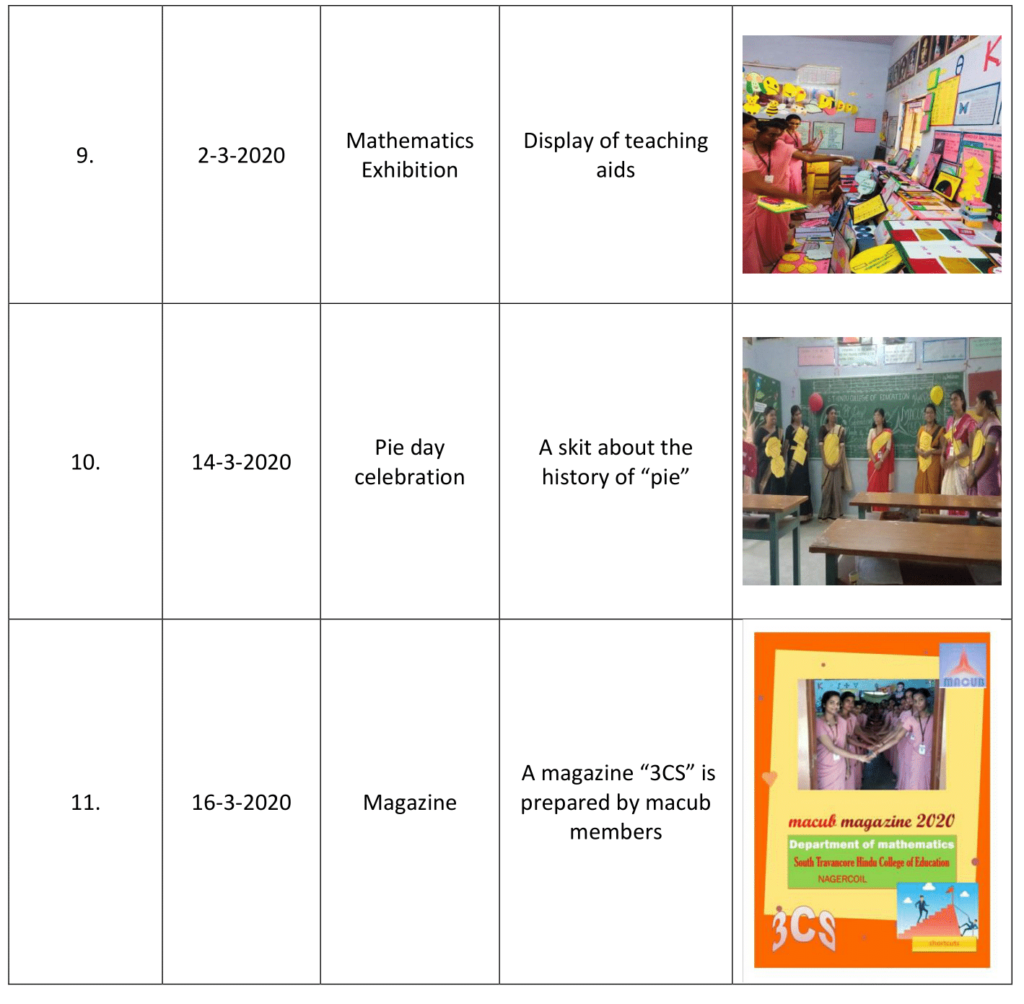 Nature Club
Physical science club
Physical Science club is a right forum which promotes inquisitiveness among the students and inculcates scientific temper among them. To encourage, motivate and equip the student teachers, S. T. Hindu college of education, Nagercoil, launches the science club each year which works in the name of SCI CLUB. The students take up the responsibility and the office bearers are selected. The club activity starts with the inauguration of the SCI club in the beginning of each academic year. The genuine essence of science is shared through various activities like conducting science exhibition, seminars, giving hands-on experiment to the school students, etc. Each year students are taken to Industrial visit where they can explore the real world of science. Student teachers are encouraged to write a various article regarding science and debates on scientific topics are conducted. As the future of young generation lies in the hands of the upcoming teachers, our college management gives constant support and prepare them to face the real world. The science club never fails to celebrate the scientists. Each year national science day is celebrated by conducting quiz competition. Monthly club meeting is conducted to uplift the student teacher's scientific attitude and personality as well.
Arts Club
Art Club aims to encourage students to build their artistic skills, develop an understanding and appreciation of the arts as well as to engage in creative artistic activities within them and the community. Throughout the year, students are engaged in various individual as well as group activities. It also helps the students to get involved directly in drawing out their inner potential. Our club main motto is to give the students an artistic outlet and foster an interest for art and personal expression through the various program, which in turn develops their skills. The College provides ample opportunities for the students to develop talents in different forms of art like skit, music, painting, elocution, drawing and other forms of arts. In addition to the activities of the Arts Club, students are also encouraged to take part in various intercollegiate competitions.
sports club
Sports activities provide an opportunity for our student teachers to learn skills which help them in school, as well as in their future careers and personal relationship. Through engagement in sports, they learn leadership, teamwork, problem-solving, responsibility, self-discipline, and a sense of initiative. Every year the sports day was organised. Our student-teacher actively participate in various competitions. Prizes were distributed to the winners.